Command line Utilities for the Administrator:
createRecoveryHDUpdater 15.4.6.command – built PKG now is targetable to volumes other than / (Note: Recovery HD updater packages for 10.11 will only work when run in OS X 10.11, previous packages could run in different OSes not so for 10.11)
createRecoveryHDUpdater 15.2.28.command – Will now download Apple's RecoveryHD Updater via Safari and will make a self contained dmg with interactive script to update your Recovery HD as well as a script to make a .pkg also!
createRecoveryHDUpdater.command – Combines Apple's RecoveryHD Updater and your App Store 10.x Installer to make a self contained RecoveryHD updater/creator disk image. Neat. Updated to work with Mavericks.
ppdOptionsDiff.command – Compares the stock PPD (in /Library/Printers) with the installed PPD (/etc/cups/ppd) to produce "-o" options for use with lpadmin (see article here)
setUserTemplateDefaultDocks – For the JSS admin, this will copy the every localized default.plist from Dock.app to the appropriate localized User Template folder. Also adding GUID and file-label to satisfy the JSS Dock Item code that looks for these elements when adding or removing icons. Failing to add these the JSS will nuke the default.plist
RemoveItemFromDock – Command line utility to remove items from the dock
AddItemToDock – Command line utility to add items to the dock.
AddLoginItem – Command line utility to add items to users' login items
Widgets for Wonks:
XProtectPluginChecker – Quickly survey the status of Java, Flash, and any other Plug-Ins Apple deems insecure and unworthy of your usage. Updated to work with Mavericks.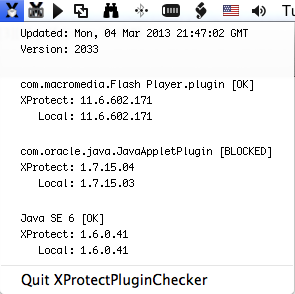 myXProtectStatus – A drop down status menulet, showing date, version, and threats protected against in the Xprotect plist. Written in bash, wrapped by Platypus, it is informational only (so don't ask me to add some menu item to do something, it just reports). Tuck it away somewhere, add to your loginitems. Updated to work with Mavericks.
Screenshot of myXProtectStatus:

(Bonus: When run as root, it will show the auto-update on/off status, which can only be determined on the command line by root.)
Safe Downloads Info – Dashboard Widget that reports the version, date/time, and auto updates status for OS X's Safe Downloads list. UPDATE: Auto-Updates status can only be determined by root via command line (unlike System Preferences which allows a standard user to determine this via the GUI). So, this has been removed from the widget (since running widgets as root isn't allowed nor is reading the launchd overrides list). Unless I find some other way… Updated to work with Mavericks.

Exercises in Applescript :
ToggleDock – Toggle the Dock appearance from "glass" to "no glass" when in horizontal mode.